Coffee Date Bread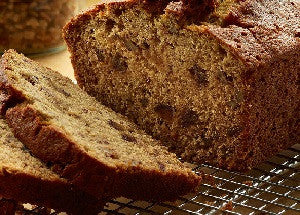 Cake, pies and cookies are great dessert and special treat options any time of year, but not always as versatile as a simple, delicious and lightly sweet bread. You can serve this bread as is, with a fruit spread or even with frosting. Our favorite way to serve it is with sliced apples and strong Cheddar. It also makes a great addition to the Holiday table. Use a 4 x 8 loaf pan. 
1 cup pitted dates, chopped
1 cup strong brewed coffee. 
1 cup chopped nuts (optional)
1 - Preheat the oven to 350 F. Slightly oil the loaf pan. 
2 - Bring strong brewed coffee to a boil. Pour hot coffee over the dates in a small bowl. Set aside.
3 - In a second bowl, combine and mix the yogurt and egg. 
4 - Blend the flour, sugar and baking soda in a separate, large bowl. Include chopped nuts if desired. 
5 - Add the yogurt and egg mixture, coffee and dates.
6 - Bake for 1 hour until an inserted toothpick comes out clean. Let stand a few minutes and remove from pan.
Serve with fruit and cheese, with fresh apple sauce or as is with a meal. 
Recommended coffees for this recipe: 
Leave a comment
Comments will be approved before showing up.