Roast Turkey with Coffee Rubs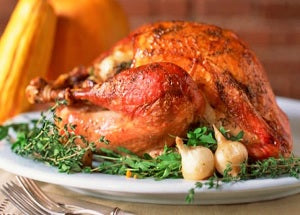 Roast Turkey is a traditional delight of the Holiday season, and a year-round delight as well. Coffee Rubs for Poultry take traditional turkey dishes from delicious to fabulous in a pinch. It is always good to return to trusted recipes when you expect guests for a special occasion, but this does not mean you are confined to your usual list of ingredients. Coffee Rubs are among the best meat tenderizers you can use to make a favorite turkey dish more succulent than ever. Fall in love with traditional Turkey Dinners all over again and delight your dinner guests with your secret ingredient, Coffee Rubs for Poultry. Caution: There may not be any leftovers. 
Ingredients (serving 4 to 6) -
8 LB Whole Turkey
4 TBSP Coffee Rubs for Poultry
4 TBSP unsalted butter at room temperature
2 TBSP Brown Sugar
1 ½ TSP fine sea salt
Method –
In a bowl, combine Coffee Rubs for Poultry, butter, brown sugar and sea salt.
Place turkey in a shallow baking pan, breast side up. Spread Coffee Rubs mixture evenly over all visible surfaces. Cover lightly with plastic film and refrigerate for at least 2 hours.
Preheat oven to 350F.
Roast turkey until skin turns golden and meat is thoroughly cooked, about 2 ½ hour if without stuffing. Add ½ if stuffed. Baste every 20 minutes or so.
Serve with vegetables and garnishes of choice.
Leave a comment
Comments will be approved before showing up.