Fall Spice Pumpkin Latté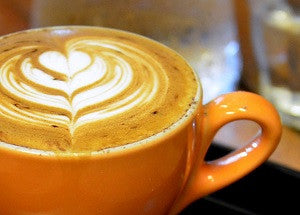 This DIY Fall Pumpkin Latté recipe has all the ingredients to celebrate the flavors of the season. Strong brewed coffee, maple syrup, real pumpkin and cinnamon blend to a smooth and rich gourmet brew in just minutes for a delectable coffee break once upon a crisp autumn afternoon. And if the climate remains warm this time of year where you live, let every sip transport your imagination to far away lands beaming with invigorating color. Most of all, savor the season.
Ingredients (for 2 Servings) -
1 cup strong brewed Tahitian Vanilla Coffee 
2 cups whole milk
1/2 Cup pumpkin purée (canned or homemade)
1 tsp Pumpkin pie spice
1/2 tsp Cinnamon
2 TBSP maple syrup
Whipped cream
Method-
Combine all ingredients in a saucepan. Heat over medium heat until very hot, just when the mixture is about to swirl but do not allow to boil.
Transfer to a blender. Blend on high until bubbles begin to form.
Pour in two mugs. Garnish with whipped cream or add a lighthearted touch with a bit of half and half if you're in an artistic mood.
Serve with a couple of large pretzel sticks. The salty contrast is a pure delight.
Leave a comment
Comments will be approved before showing up.