How is Coffee Decaffeinated?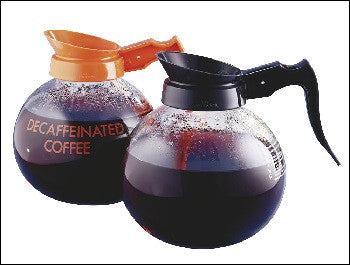 There are two methods for removing caffeine from coffee: The European Process and the Swiss Water Process.
The European Process and the Swiss Water Process both begin with green coffee beans, prior to roasting. All Brown & Jenkins Decafs are decaffeinated by the Swiss Water Process. We feel this is the healthiest method. You will see why in a moment.

The European Process uses steam and methylene chloride as a solvent to remove the caffeine. The beans are then steamed and dried in hot air to remove residual methylene chloride and excess moisture. Since methylene chloride vaporizes at 105 degrees, all but a trace is removed. It is estimated that any remaining trace disappears when the beans are roasted at around 400 degrees.

The Swiss Water Process uses water and activated charcoal to remove the caffeine from the beans. First, the beans are soaked in water that draws off the caffeine. The caffeine-rich water is passed through the charcoal. The caffeine-free mixture is then concentrated and added to the partially dried coffee beans. When the beans are dried, they are ready for roasting.

WHICH DECAF PROCESS IS THE SAFEST?

The Federal Food and Drug Administration considers both processes to be safe. However, many people who are concerned about the amount of chemicals in foods and beverages often choose Swiss Water Process Decafs. This is a safe choice since only water is used to decaffeinate the coffee. The activated charcoal present in this process does not leave any residue. The European Process is not a favorite due to the use of methylene chloride, which many feel may somehow contaminate the beans.

In truth, the European Process has gotten a fair amount of bad press. The fact is, that since methylene chloride vaporizes at such a low temperature, very little, if any, is left behind. After coffee is roasted at about 400 degrees, tests have not been able to detect even the slightest trace left in the roasted coffee bean.

We know our customers favor a product that is produced with their best interest in mind, and this is why we choose the Swiss Water Process only for our decafs. Better safe than sorry. This process leaves a rich, clean flavor and aroma in the bean. There is also a broader selection of Swiss Water Decafs from around the world.
Leave a comment
Comments will be approved before showing up.