What is The Best Way to Store Coffee?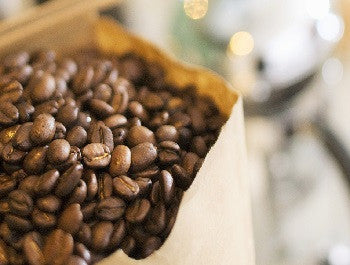 Whether it is roasted or not, coffee is still subject to the elements. Remember that whole beans offer less surface to the air. Thus, storing whole beans and grinding as needed is a good way to prolong the life of fresh coffee.
Storing whole beans and grinding as needed is a good way to prolong the life of fresh coffee. Whole bean coffees stay fresh for 3 to 4 weeks in poly-lined, tin-tie bags like those in which we package our Brown & Jenkins coffees.

If you need to extend the shelf life beyond 3 weeks, you should store your coffee in the freezer. Whole beans can be kept fresh in the freezer for up to six months.

To freeze whole bean coffee, simply place your Brown & Jenkins bag in a heavy-duty, zip-lock freezer bag and put it in your freezer. The zip-lock simply adds another layer of protection against moisture. Take a week's supply of coffee out of the freezer at a time. That's preferable to taking it in and out every time you need it. When you first remove the beans from the freezer, you don't have to wait until they are thawed to grind and brew them.

Once out of the freezer keep your whole bean coffee in a cool, dry cupboard, or place it in the storage chamber of your mill grinder. Your beans will remain fresh and ready to use.

Do not keep your coffee in the refrigerator. Food odors will affect the flavor.

If you are using previously ground coffee, it can also be stored in the freezer for a few weeks with minimal change in taste. However, since ground coffee begins to lose its flavor immediately after grinding, we recommend buying your coffees whole bean and grinding just prior to brewing. This will ensure that you are enjoying the freshest, most flavorful coffee possible.

Proper storage of your Brown & Jenkins coffee will guarantee outstanding flavor, aroma and sipping experience.
Leave a comment
Comments will be approved before showing up.