Coffee Maple Syrup Vinaigrette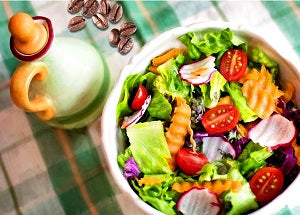 Use leftover coffee in homemade vinaigrette to add delicious nuances to the refreshing veggies on your salad plate.
We often talk about cooking with coffee and marinating meats with coffee rubs, or using coffee in cakes and desserts, but one of the most overlooked uses for leftover coffee (and fresh coffee too) is to add it to homemade salad dressing. We forget that coffee is a berry, a fruit, and as such it is naturally compatible with the wide variety of fruits and vegetables nature places at our fingertips, and on our dinner plates.
Coffee is a natural meat tenderizer, and it also stimulates the taste buds. Added to a vinaigrette or salad dressing, it combines with the fresh, crisp taste of vegetables and fruit to add flavor nuances to every bite, bringing the attention back where it belongs during a good meal, that is, on the richness of the experience.
You can use any favorite Single Origin Coffee or Coffee Blend. If you love drinking it, you will appreciate how well it plays with veggies too.
As you can tell, we are quite fond of using coffee in salads. We hope you will too. Here is a quick three-ingredient vinaigrette you can make with your favorite Single Origin Coffee. To determine how much you need, consider how much salad dressing you normally use per plate. You can't go wrong with vinaigrette. Make a good batch and refrigerate the rest. It won't last long!
INGREDIENTS
Leftover Coffee – Single-Origin or Coffee Blend
Natural Maple Syrup
Balsamic Vinegar
INSTRUCTIONS
Measure out equal parts of balsamic vinegar, maple syrup and coffee.
Heat until syrupy. Allow to cool at room temperature.
Pour over your greens and reds and yellows.
Add a sprinkle of fresh lemon juice.
COFFEE RECOMMENDATIONS
Our personal favorite Single Origin Coffee and Coffee Blend to use in vinaigrette:
Kenya AA
Harvest Blend
Leave a comment
Comments will be approved before showing up.