Steak House Salad with Steak & Venison Buzz Rubs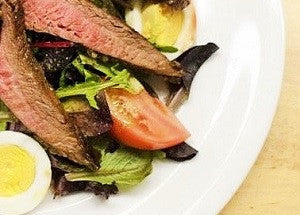 A good Steak Salad brings nature's green bounty and the primal energy of the earth to your plate. Infuse it with Coffee Rubs for invigorating flavor that is unequaled. A good dinner salad can be a suitable main course any season of the year, but there is something different about a Steak Salad. It is as though you are bringing sunshine to every bite. Try it on a gray mood day and you'll see. Most of all, a good dinner salad makes you feel good about yourself. The variety it provides in every bite is good for body and soul. It will satisfy even the biggest hunger. Use Coffee Rubs for Steak & Venison anytime you cook red meat. Coffee Rubs are an excellent meat tenderizer. If this is your first time cooking with Steak & Venison Coffee Rubs, our Steak House Salad is the perfect introduction to cooking with coffee. Serves 4. Double the recipe for great leftovers!
INGREDIENTS
1 lb. Flank Steak
Coffee Rubs for Steak & Venison 
2 Hard Boiled Eggs, Quartered
4 New Potatoes, Quartered and Cooked
1 lb. Cooked Green Beans
3 Plum Tomatoes, Sliced
1 1/2 Cups Herb Vinaigrette of Your Choice
3 TBSP Dijon mustard
1/4 Cup Black Olives, Sliced
4 Cups Mixed Salad Greens
Optional: Blue Cheese for Garnish
METHOD
Generously sprinkle the steak with Coffee Rubs for Steak & Venison. Place on a dish, cover lightly with plastic film and refrigerate for at least 2 hours. Coffee Rubs are a fantastic meat tenderizer.
Meanwhile, Cook eggs and vegetables as listed above and set aside. Mix Herb Vinaigrette and Dijon. Slice olives. Set aside.
Preheat grill or broiler. Grill steak for 6 to 8 minutes on each side. Allow to cool. Slice diagonally across the grain.
Combine greens, eggs, vegetables and olives. Drizzle with herb-Dijon vinaigrette. Top with sliced steak. Optional variation: Garnish with Blue Cheese crumble.
Serve with a nice Pinot Noir. You deserve it. 
Leave a comment
Comments will be approved before showing up.