Sweet and Spicy Chipotle Coffee Rub Pork Skewers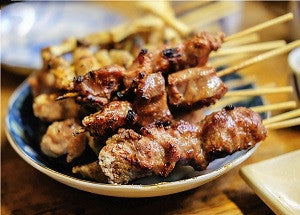 Pork Skewers are easy to make and provide a welcome alternative to conventional beef skewers when you crave something different and classy. Sweet and Spicy Chipotle Coffee Rubs tenderize the meat and enhance its natural flavor whether you cook it on the grill or indoors. Capture the invigorating spirit of summer with Sweet & Spicy Chipotle Coffee Rubs on, well, everything. Don't be shy, try this recipe first. You will improvise your own before long. This one serves 4, because a good meal in good company is a gift.
INGREDIENTS (serves 4)
2 lb. boneless pork ribs cut into 1-inch cubes
1/2 cup chili garlic sauce
1/4 cup soy sauce
4 TBSP dry sherry
2 TBSP sesame oil
2 TBSP brown sugar
2 TSP ground ginger
2 TBSP Sweet & Spicy Chipotle Coffee Rub 
METHOD
In a large bowl, combine the chili garlic sauce, soy sauce, sherry, sesame oil, brown sugar and ground ginger. Whisk. Add pork. Refrigerate for 30 minutes.
Heat indoor or indoor grill to medium.
Thread 3 to 6 marinated pork cubes on skewers (depending on skewer length).
Place skewers side by side on a dish. Sprinkle one side with ½ the Sweet & Spicy Chipotle Coffee Rubs. Turn and repeat with the remaining Buzz Rub.
Grill immediately, uncovered, for about 10 minutes, turning every 2 minutes to brown evenly.
Serve as an hors d'oeuvre, along with other finger food selections or serve over rice sprinkled with soy sauce, and a side vegetable. Bonus tip: Make an extra batch of the marinade for dipping.
Leave a comment
Comments will be approved before showing up.