Cappuccino French Toast With Banana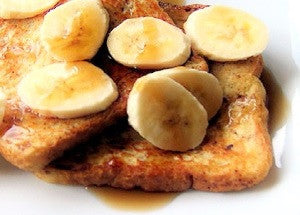 The weekend is on the horizon at the time of this writing and we cannot think of anything better than a good, home-spun brunch. On the menu: why, Cappuccino French Toast, of course. You can enjoy this special morning feast even if you enjoy sleeping in since the milk and coffee mixture can be prepared the night before. All that's left is to dip and grill. And if you live in the Cambridge, Vermont area, we invite you to stop by 158 Main Restaurant for a fresh loaf of bread. Make sure you have some leftover for this recipe. It makes 4 servings.

Ingredients -

2 eggs
1/4 cup milk (eggnog could be used for an extra special treat)
1/4 cup brewed coffee cooled slightly
1 tbsp lightly packed brown sugar
1/4 tsp Turkish Ground Costa Rican Coffee
1/4 tsp ground cinnamon
1/4 tsp nutmeg
4 slices bread of choice, preferably 1 to 2 days old
3 tbsp unsalted butter
2 bananas, sliced lengthwise (optional, but highly recommended)

Instructions -

1. Preheat oven to 200. 
2. In a medium bowl, whisk the eggs, milk, sugar, coffee grounds, cinnamon, and nutmeg. Pour into a pie plate or shallow dish. Trim the crusts from the bread (optional). Soak two slices of bread in the egg mixture, 2 to 3 minutes. Turn over and let soak on the other side briefly.
3. Heat 1 tbsp butter in a heavy 9-inch skillet. Drain the bread slightly and fry over medium heat until golden on each side. Remove to the warm oven. Repeat with the remaining two slices.

4. Heat the remaining tbsp of butter. When bubbling, sauté the banana slices on both sides about 2 minutes, or just until lightly browned.
Serve the banana garnished French Toast with warm Vermont Maple Syrup. We get our syrup from the Vermont Maple Outlet. If you live locally, you might be interested to know that they carry several of our coffees, including all-time favorites. 
Leave a comment
Comments will be approved before showing up.
---
Also in COFFEE INFUSED TREATS
Brownies are a classic. These coffee, date and walnut brownies are sure to become a favorite. Serve them with fruit, yogurt, ice cream... or coffee.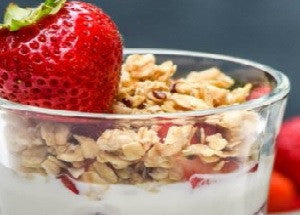 You already know Greek yogurt is good for you. You already love coffee. We take the pleasure one step further with this easy to make Greek Yogurt Coffee Parfait.
Serve this Honey Chestnut Coffee Spread when you have guests over for a Sunday brunch, or anytime you wish to pamper yourself in the morning.