No Bake Coffee Date Nut Brownies
Who does not love a good brownie? Who does not love a good coffee? Do we really need to answer these questions? These tasty bites stand apart. They are at once dessert and energy bar, and a sweetly ideal companion to ice cream, fruit, yogurt, hot caramel drizzle or simply a good, fresh brewed cup of coffee. And for dunking... a pure delight. These coffee date nut brownies are a dense and powerful treat. Cut them into small bites to bring along on a hike. They also have that distinguished texture that make them perfect as a classy treat to serve after a formal dinner.

Ingredients -

1 cup walnuts, chopped
(Substitute roasted pumpkin seeds if you have a nut allergy)
1¼ cup pitted dates, chopped into small pieces and well packed
1 tbsp Turkish Ground Costa Rican Coffee
½ cup cocoa powder
1 1/2 tbsp water
1 tsp vanilla extract
Pinch of salt

Instructions -
Process the dates in a food processor until they appear to form a dough.
Turn off the food processor. With a knife, loosen the date mixture. Add the chopped walnuts. Add the coffee grounds, cocoa, 1 1/2 tbsp water, 1 tbsp vanilla extract and a pinch of salt.
Process until evenly blended. The mixture will clump.
Line a loaf pan with parchment paper. Empty the brownie mixture in the pan, pressing it down firmly.
Refrigerate, uncovered, for an hour before cutting and serving. Store unused portions in an airtight container, in the fridge.
Leave a comment
Comments will be approved before showing up.
---
Also in COFFEE INFUSED TREATS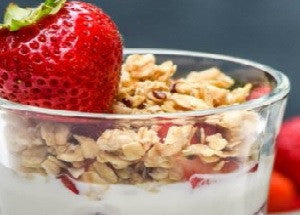 You already know Greek yogurt is good for you. You already love coffee. We take the pleasure one step further with this easy to make Greek Yogurt Coffee Parfait.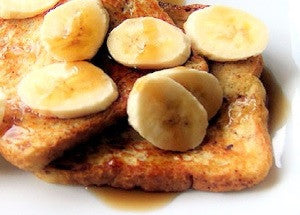 Transform leftover or fresh bread into irresistible French Toast unlike any you have ever tasted, and turn an ordinary breakfast into brunch.
Serve this Honey Chestnut Coffee Spread when you have guests over for a Sunday brunch, or anytime you wish to pamper yourself in the morning.