Cherry Coffee Smoothie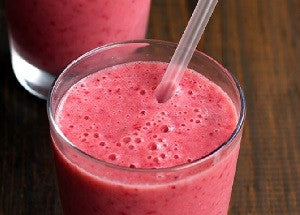 We tried to find the most evocative name for this colorful, uplifting, uniquely invigorating, bursting with deep flavor smoothie. Impossible. It demands straightforward identification. Call it what it is. It speaks for itself. Drink this Cherry Coffee Smoothie with total abandon. Give in to its deliciously bitter-sweet flavor. It's the tastiest way to get a healthy boost of anti-oxidants too.
For 2 servings, combine 1 1/2 cup frozen cherries, 1 1/2 cup almond milk and 1 cup chilled
French Vanilla Coffee
in a blender. Blend thoroughly, until smooth. Pour in 2 wide mouth glasses. Close your eyes. Enjoy, one delicious sip at a time.
Leave a comment
Comments will be approved before showing up.