Coffee Apple Spice Cake with Vanilla Butter Sauce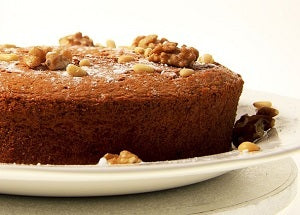 The name of this recipe stirs the imagination. It is tempting to indulge in an overflowing poetic description equal to the dish itself. It is equally tempting to skip the recipe and somehow find ourselves sitting in front of the accomplished dessert, instantly. Thus we come to a happy and sensible middle ground (ground, coffee, get it!?)... let's make this without further ado.
Ingredients ~ for about 10 servings (depending on your sharing mood) 
1 cup flour (whole grain bread flour will produce a hearty, dense cake)
1 TBSP Pumpkin Pie Spice
1 TSP Allspice, Ground
2 TSP Turkish ground Costa Rican Coffee
1/2 TSP salt
1/2 cup (1 stick) butter, softened
1 cup firmly packed light brown sugar
2 eggs
2 TSP Pure Vanilla Extract
2 medium apples, peeled and chopped
1/2 cup raisins
1/2 cup chopped walnuts 
Vanilla Butter Sauce Ingredients (recipe at bottom)
1 cup firmly packed brown sugar
1/2 cup (1 stick) butter
1/2 cup heavy cream
2 TBSP vanilla extract
Method ~
1. Preheat oven to 350°F. Mix flour, pumpkin pie spice or apple pie spice, allspice, ground Costa Rican Coffee and salt in small bowl. Set aside.
2. In a large bowl, beat butter and sugar with mixer at medium speed for 5 minutes or until light and fluffy. Beat in eggs and vanilla at low speed, just until blended. Gradually add flour mixture, beating well after each addition. Stir in apples, raisins and walnuts. Spread evenly in greased 9-inch round cake pan.
3. Bake 35 to 40 minutes or until toothpick inserted in the center comes out clean. Cool in the pan for about 10 minutes. Invert cake onto serving plate. Serve with warm Vanilla Butter Sauce. 
Vanilla Butter Sauce: Bring brown sugar, butter and heavy cream to a boil in a 2-quart saucepan, over medium heat. Reduce heat to low. Simmer 10 minutes or until slightly thickened. Remove from heat. Stir in 2 tbs Vanilla Extract. Serve warm, over Coffee Apple Spice Cake.
Leave a comment
Comments will be approved before showing up.