Coffee Shortbread Cookies
Rich, sweet shortbread has been a beloved traditional treat since the Middle Ages. It it deeply rooted in the dairy farming and butter making industry, and thus it is deeply rooted in the land. Serve Coffee Shortbread Cookies with your favorite after-dinner coffee, with fruit spread, nuts or with maple syrup drizzle.

INGREDIENTS
14 ounce unsalted butter at room temperature
3 TBSP = 1 TSP very finely ground Dark Roast Coffee (we use Black Ice)
1 cup sugar
3½ cups all-purpose flour
¼ TSP salt

METHOD
Preheat oven to 350 F.
Mix butter, coffee and sugar thoroughly. An electric mixer will give best results.
Combine flour and salt and add to the butter mixture. Mix until you obtain a dough. If using an electric mixer, a low speed is preferable.
Empty unto a plastic board or wrap and roll into a log. Refrigerate for 45 minutes.
Slice chilled dough into 1/2-inch medallions. You will obtain 12 to 16 shortbread cookies, depending on the length of your log. Arrange cookies on a an ungreased baking sheet.
Bake until you notice the edges turning brown, 20 to 25 minutes.
Indulge. We confess that we like to dunk ours in Maple syrup from the Vermont Maple Outlet.
Leave a comment
Comments will be approved before showing up.
---
Also in COFFEE INFUSED TREATS
Brownies are a classic. These coffee, date and walnut brownies are sure to become a favorite. Serve them with fruit, yogurt, ice cream... or coffee.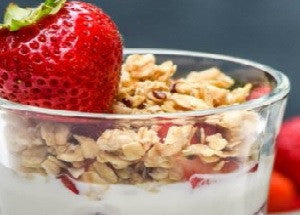 You already know Greek yogurt is good for you. You already love coffee. We take the pleasure one step further with this easy to make Greek Yogurt Coffee Parfait.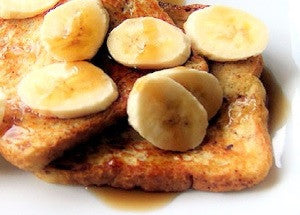 Transform leftover or fresh bread into irresistible French Toast unlike any you have ever tasted, and turn an ordinary breakfast into brunch.